Columbian

Sharp-tailed Grouse Photography Workshop
with Award-winning conservationist/nature photographer, Noppadol Paothong
Join world-renowned grouse expert photographer Noppadol Paothong for a unique opportunity to photograph Columbian Sharp-tailed Grouse at the peak of mating seasons on a beautiful snowfield on a private ranch in southern central Wyoming.
One of the subspecies, the Columbian sharp-tailed grouse, can be found in isolated pockets of Idaho, Wyoming, Colorado, Utah, and British Columbia. While many petitions have been made to get the Columbian sharp-tailed grouse on the endangered species list, it remains only a "species of concern.
The Columbian sharp-tailed grouse mating ground (lek) is located about an hour drive from the lodge.
Don't miss out this unique opportunity to challenge your photography skills to the next level as you photograph sharp-tailed grouse dancing in a snowfield at an eye level from a photo blind. 
During this workshop, Noppadol will share his two decades of experience with sharp-tailed grouse while working on two national award-winning books and provide in-depth coaching in the field.
Besides photographing sharp-tailed grouse, you will also be exploring the beautiful Red Desert landscape and photographing the landscape and other wildlife species such as wild horses that live within this unique ecosystem.
He will also assist participants in ensuring memorable photographs with photo discussions after morning shoots and informative sessions on grouse behavior, image editing/processing tips, and techniques to improve your photography skills to the next level.
4-day Sharp-tailed Grouse Photography Workshop
(four days, three mornings)
Location: South Central Wyoming


Date: April 20th – 23th, 2023
Number of Participants
Four maximum (three minimum)

As of 8/12/22, 2023/2024 workshops are full.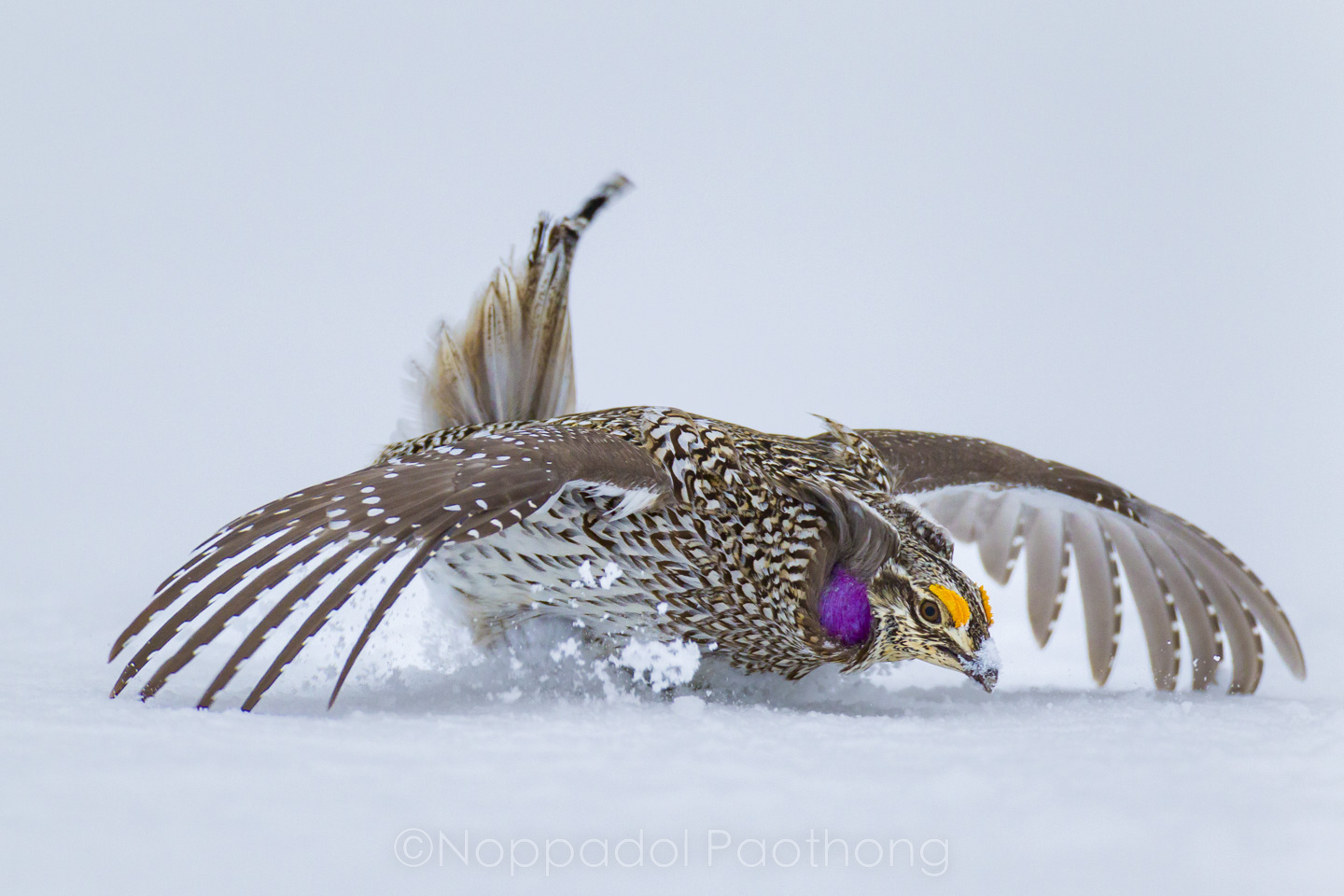 What's Included in the Workshop
Noppadol Paothong, your workshop leader
In-depth coaching in the field
Indoor informative sessions on grouse behaviors, image editing/processing tips, and photography techniques
Group photo discussion from morning shoots
Three mornings photographing sharp-tailed grouse from a photo blind
Two afternoons/evenings photographing Red Desert landscape and wildlife (such as wild horses)
What's NOT Included in the Workshop
Meals are NOT included.
Lodging is NOT included.*
*Participants will need to contact the lodge and arrange their accommodations. A group rate is available for the workshop participants. Detailed information will be provided after workshop registration.
Workshop Fee: $3,550

A $500 deposit, payable by check, is due when you sign up to secure your spot. Balance must be paid in full by check by no later than 30 days before the workshop date.
Cancellation: Your cancellation notice must be received 60 days before the workshop start date. 50% of your deposit will be charged as a cancellation fee. After 30 days before the workshop date, your deposit is non-refundable.
Physical requirement: Ability to hike in a snowfield with your camera gear for 0.2 mile and sit in a photo blind for 3.5 hours
Equipment requirement: A digital camera with interchangeable lenses, telephoto lens, wide-angle lens, and mid-range zoom lens (suggested). A laptop with image processing software is required. We prefer and recommend Photo Mechanic.
* Lists of gear and what to bring will be sent after registration.
Registration
You can register by emailing your name and contact information at 

[email protected]

 and sending a $500 deposit (payable to Noppadol Paothong Photography) to the following address.
Noppadol Paothong Photography, LLC
P.O.Box 7801
Columbia, MO 65205
*To keep myself and participants safe and healthy as well as streamlining the process of acquiring destination venues and accommodations, we are asking that all workshop participants be fully vaccinated against COVID-19.
**This workshop has commercial general liability coverage.
This unique workshop will fill quickly.
Contact us as soon as possible.
* This workshop is for advanced photographers with good working knowledge of their camera equipment.
Contact [email protected] if you have any questions to ensure this is a suitable workshop for you.