With all grassland grouse I've photographed, Gunnison Sage-grouse are by the far the most difficult to work with.
They are unpredictable and constantly wary of intruders. Unlike other grouse, when they are spooked by something, Gunnison Sage-grouse won't return until the next day. Often, I had to get to my blind by 4 a.m. before the birds arrived. Even then, if there was a full moon, the birds often showed up at midnight, making it impossible for me to get to my blind.
I set my blind out in the ranch in Gunnison valley; the last place on Earth where more than 100 grouse gather and perform during the mating season.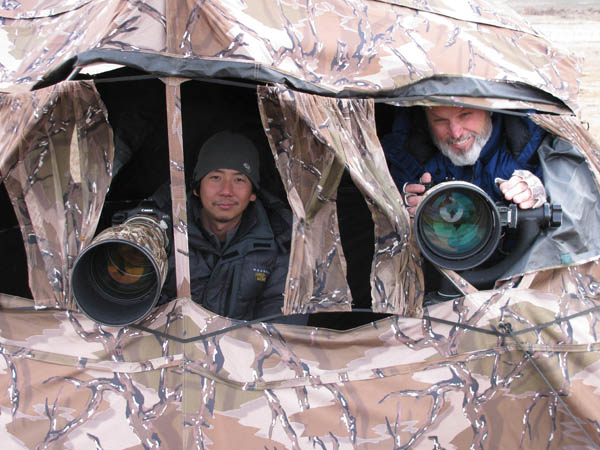 During this trip I had an opportunity to photograph with Colorado's renowned conservation photographer, Dave Showalter, who was working on a project called "Sage Spirit."  We had both been working on similar projects and had never met until this trip. (Click here to read his blog entry.)
I spent the next 8 days photographing Gunnion Sage-grouse.  Although I think I did very well 3 years earlier, I believe I came back with even better images this time thanks to three incredible mornings when several grouse came so close to my blind.